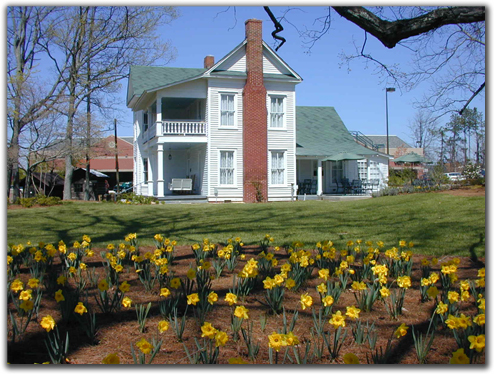 When I was little, we moved every eighteen months to two years. That's the life of an Air Force family. Dad was involved in flight logistics, and specialized in bases that were scheduled for closing. I was the "new kid" so many times I thought it was normal. And every time we moved, we enjoyed the honeymoon period of a new place, but never stayed long enough to explore beneath the surface.
I've lived in Dunwoody ten years now, and I'm still finding new reasons to love this place.
Favorite breakfast
: Olde Hickory House, with one egg, rye toast, and some really good coffee.
Favorite Starbucks
: the one in Dunwoody Village, because it has a drive-thru and I need that mocha latte right now because I have five stops to make in the next 30 minutes!
Favorite grocery store
: Publix. It's small enough to find everything I need and "Dunwoody-fied" enough to get special stuff like lamb chops and Silver Palate pasta sauce.
Favorite I-don't-feel-like-cooking-tonight-solution
: Fresh Market. A loaf of crusty sourdough and some gourmet mozzarella for a grilled cheese sandwich, plus one of their homemade soups, and the whole family is content. Yummmmmm.
Favorite route from our house to Peachtree Charter Middle School
: Up Mt. Vernon Road to North Peachtree Road, a leisurely 25-mile-per-hour ride across Tilly Mill, and on to the school. What the drive lacks in speed, it makes up in time saved, because I rarely pass many cars.
Favorite sight driving down Mt. Vernon Road at night
: the stained glass window gleaming from St. Luke's sanctuary.
Favorite carwash
: Sunshine!
Favorite teacher at Dunwoody High School
: Kara Bryant, the Latin teacher. She's smart, funny, highly organized, "gets" teens, and stays connected to parents. Wow.
Favorite walking path
: A 3-mile loop from our house, up Mt. Vernon Way to Meadowcreek, a cut through the social trail and on to Dunwoody Park, up Roberts and Chamblee-Dunwoody Roads, a left at the library and Womack, back to Mt. Vernon Way via Vernon Springs, and left on our street.
Favorite sight whether driving or walking
: the Great Dane who walks his owner and has a huge stuffed bone clenched in his jaws as he lopes along.
Favorite house renovation
: the home at the corner of Mt. Vernon Way and Meadowcreek has me sighing with pleasure every time I see it.
Favorite Dunwoody idiosyncracy
: The centerpiece of the village is a farmhouse, but we're way too urbanized for actual farming.
Favorite post office
: Definitely the one at the Wal-Mart shopping center on Ashford-Dunwoody Road. If you live in Dunwoody, you try to avoid the one in the village.
Favorite fundraiser:
the Friends of the Dunwoody Library book sale. It's great to recycle finished books and get "new" ones for next to nothing. The volunteers who run the sale are efficient at setting up the sale and making sure members get first dibs. (There's steel in those magnolias.)
Favorite sandwich
: The turkey salad on white at Wright Gourmet. It's really not healthy, but it sure is tasty.
Favorite "I'll bring dessert" without actually making it
: The lemonade cake at Wright Gourmet.
Favorite service at St. Luke's Presbyterian Church:
It's a caber-toss-up between the Scottish Heritage Festival (this weekend!) and Christmas Eve (the one that ends at midnight).
Favorite Fairy Godmother
: Donna B, the doyen of volunteers at Dunwoody Nature Center.
Favorite neighborhood Christmas display
: Redfield!
Favorite people to call when the garage door breaks
: Dunwoody Door Lift.
Favorite heating and air conditioning guys
: Dunwoody's Choice.
Favorite newspaper
. Duh. The Dunwoody Crier.
Favorite Dunwoody blogs
.
www.sustainabledunwoody.com
and
John Heneghen's
timely news.
That's just a few of the things I love about Dunwoody, the center of our universe and the best place to live. Bar none.