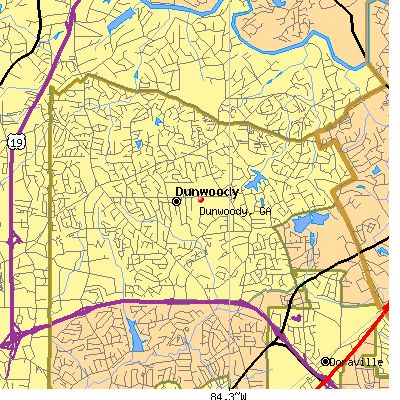 The teen and I just finished his last required hike for the BSA hiking merit badge. We trod seventy miles on the Big Tree Greenway, over Kennesaw Mountain, around Stone Mountain, and through Dunwoody. His ever-present Crohn's symptoms meant he couldn't get too far away from facilities and medical support, so he got creative with his urban hiking choices. For today's hike, A chose to repeat his favorite, a loop around our little town.
We're both glad it's finished. But we're also a bit sad, because it's been seventy miles of mom-and-son time, a precious commodity in the busy-ness of his teen years. We've talked and we've walked in companionable silence. We've shared leg pain and a loathing of steep grades. We've ticked off each hike with great satisfaction and discussed the pros and cons of repeating a route again.
Bits and pieces of today's hike:
While the pedestrian crossing on Mt. Vernon Road between Dunwoody United Methodist Church and the Michael's shopping center is CLEARLY MARKED, cars whizzed by us, even as we were IN THE CROSSWALK.
We passed one of Adam's DHS Mock Trial teammates who called a cheery hello as she continued her run. That lead to a discussion of next year's case, and Adam's expectation that the now-veteran team will do even better.

The sidewalk on Chamblee-Dunwoody between Dunwoody Knoll and the merge with Roberts Drive is really, really narrow. Particularly with overgrowth looming overhead. When we passed a very pleasant woman with a huge dog, she jumped into the lane of traffic so we could pass each other. Not a good thing.
The sound of aluminum bats connecting with hard-thrown baseballs resounded over Dunwoody Park as we traversed its trails. I confess I prefer the sound of a wood bat. I'm so old school.
While Abernathy Road undergoes the latest round of "improvements," the sides of the road are nearly impassible for pedestrians. We used parking lots and hopped over construction materials to get to the Perimeter Mall area. In New York, when they're doing something that breaks up a sidewalk, they build a temporary pedestrian pathway. Hello?

I love the iron bench and bike rack perched across from the Fresh Market. It isn't a bus stop and it isn't a decorative accent for a place of business. It's there for walkers and bikers. I hope there will be more as time goes by.

The jaywalkers from the office buildings at the intersection of Mt. Vernon and Abernathy roads have cut a path through the evergreen shrubs in front of the Chic Fil A. Rather than think that's too bad, I think it would be nice if an actual sidewalk were added because, for "legal" walkers along the sidewalk, it's a lot safer to access the restaurants there than trying to walk through the parking lot.
Tinted windows make it really, really hard to see who's honking a greeting and who's just tooting a warning. We smiled and waved just in case.
One of the reasons A loves the Dunwoody Hike is that his chosen route passes both Barnes & Noble and Borders. His backpack was much heavier on the return than when we set out.

We were halfway through the intersection of Mt. Vernon Road and Dunwoody Parkway when someone leaned heavily on the horn, then burned rubber as soon as we cleared one lane. I guess we weren't walking fast enough.
The hiking merit badge was A's last Eagle-required badge. Now he's working on his Eagle project paperwork in hopes that he can do his project in the fall.
I'll be right there on the sidelines, cheering him on.