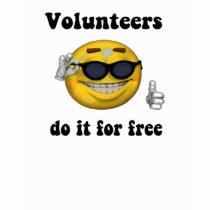 What makes Dunwoody truly great is the limitless capacity of friends and neighbors to volunteer their time and talent for causes near and dear to their hearts.
In the past few weeks, I've had the privilege of working with volunteers at Dunwoody High School, Dunwoody Nature Center, Campaign Guy's energetic yard sign brigade, the DeKalb Master Gardener program, and St. Luke's Presbyterian Church. As I've shopped, carpooled, and run errands, I've also encountered volunteers like the firefighters collecting for Muscular Dystrophy, a sweet woman staffing the gift shop at Scottish Rite, parents loading and unloading instruments for the Friday night Marching Band performance, a young mom carrying a bag and picking up trash as she walked her child to Austin Elementary School, bloggers spreading the news about community events to Dunwoody's virtual neighborhood, the Young Professionals of Dunwoody planning a spectacular block party benefiting the DHS Band program, and .... well, frankly, seeing volunteers isn't just an occasional thing in Dunwoody. It's a don't-blink-or-you'll-miss-'em, integral part of life in this
It's a Wonderful Life
town.
John F. Kennedy gave us all an echoing call to volunteerism, asking us to give, not receive; to look for opportunities to serve, not to benefit. The Peace Corps, Habitat for Humanity, and other world-changing volunteer organizations are a legacy of my childhood, that era when a passion to change the world preempted practical considerations like retirement funds and keeping up with the Joneses. Dunwoody is well represented by volunteer service organizations like the National Charity League, Dunwoody Woman's Club, Rotary and Kiwanis, faith groups, medical-focused charities, and others.
As this economy makes all of us look over our shoulders and fret over savings and expenditures, volunteers are even more critical to the quality of life we enjoy. According to
The Nonprofit Times
,
"(t)he total estimated value of volunteer service in 2010 reached $173 billion with the proportion of volunteers serving more than 100 hours increasing from 33.2 percent in 2009 to 33.8 percent in 2010."
My unsubstantiated guess is that the percentage of Dunwoody volunteers serving that 100+ hour mark is even higher.
As the 10th anniversary of 9/11 draws near, remember. And do something. Honor our men and women in uniform by using the freedoms they fight so hard to defend. Including volunteering your time and talent to enrich our community. Check with Dunwoody's own
Pebbletossers
,
Hands on Atlanta
, and the
City's volunteer opportunities board
. Grab a trash bag and talk a walk around town - there's always windblown trash in natural areas and rights-of-way.
Volunteers do it for free .... and from the heart.