I'm baaaaack. Delightedly so.
The Board of Directors of Dunwoody Nature Center paid me quite a compliment. They asked me to return and serve as the Interim Executive Director while they complete their search for a successor to Claire Hayes, who retires next week. Of course I said yes. While my freelance writing continues, and they understand the juggling I'll do over the two months (or less) of the interim period, we're all confident that it'll work out very nicely. (I'm nothing if not hyper organized and multi-task oriented.) My goal is to create a solid operational foundation for the new Executive Director.
This is a crucial and exciting turning point for the Nature Center, as it stands on the threshold of truly remarkable changes that will have far-reaching benefits for our community. A new strategic plan that clarifies their mission and goals, a new City parks department led by the savvy and responsive Brent Walker, a dynamic parks and greenspace planning process that supports a public/private partnership as the Board begins the process of planning a new education center, new programs for adults and children, and new and long-time donors recognizing the value of environmental education and supporting the Nature Center with their financial support.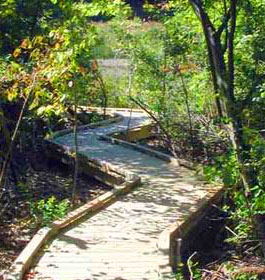 If you haven't been to Dunwoody Park ... oh, my. This brief February warmth is a gift that can only be enjoyed outdoors. Walk the trails, listen to the birds, hunt for those first green shoots emerging from the ground and the tips of trees, and breathe deeply.
See you at Dunwoody Nature Center!