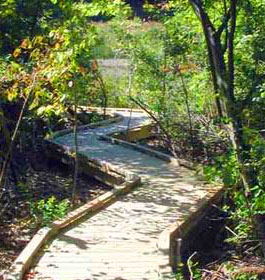 A major perk of my job at Dunwoody Nature Center is that I get to take a walk in the park whenever I need one. Two hours straight on the keyboard followed by a twenty-minute pass through trails, picking up trash around the picnic area, and deep, cleansing breaths of fresh air: not a bad schedule.
It's a shame that the testing-focused education of our kids precludes such outside breaks. Every minute of the school day is so precious that administrators feel they have to command students' attention lest they fail the almighty No Child Left Behind federal mandate. Of course, by now we all know that this particular educational philosophy du jour isn't such a success after all. It's surreal that our government insists that one size fits all, ergo one educational model (everyone goes to college) fits every student's need.
So fresh air has to come before and after school. It's imperative for the tween and teen to get away from computers and books and soak in the sun, ride a bike or take the dog for a walk, toss a ball around, and enjoy some freedom from must-do's.
Just as we've invested in math and music tutors, we must ensure that our kids get the essentials they don't have at school.
Two of the more evocative memories of my childhood are indelibly linked to the outdoors: my mom yelling at her kids to "go play outside and don't come back until it's dinner time" when we'd gotten too rambunctious and the slamming of my grandmother's screen door during visits as we passed back and forth for drinks and food and bathroom breaks.
I really, really miss the creaky, springy, slammy sound of a screen door.
It's Labor Day Weekend. The teen is headed to Dragon Con (that guarantees miles of walking around downtown Atlanta), I have some gardening chores to do with the vegetables and landscape, the tween has a dog-sitting job and wants to ride her bike all over Dunwoody, and the family will enjoy a picnic and hike on Monday . . . in a park.
Rain or shine, we'll be outside this weekend.